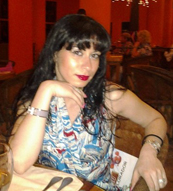 Dear Parents, Guardians and Children,

My name is Veronica Gorban. As a mother and an educator, I am well aware of a parent's needs and wants for their children and, more importantly, from the care that is given to the child in their absence.
I discovered my passion for working with children in 2000 when, as a sophomore in high school, I began tutoring in my neighborhood. That passion grew as I worked with children in a day care setting and later in the elementary grades for the Board of Education. Since then, I have had the opportunity to work with children of different ethnicities and professionals in the field of education. I always look forward to learning something new and to better myself as a teacher. I am a continuous learner and I have made a pledge to myself that I will continue teaching children in the hope of bettering their educational paths.
I graduated from the College of Staten Island with a bachelor's degree in elementary education and a minor in history. I later obtained a post-baccalaureate degree in speech language pathology and audiology from Touro College. I then completed a master's degree in general and special education, thus broadening my knowledge of child development and various learning styles.
I eagerly anticipate the challenge of being an important part of your children's future. Seeing a child's "light bulb" go off when they acquire a new skill with just the appropriate level of guidance is the greatest reward an educator can ask for. Watching kids work together and accomplish goals set for them is the most amazing feeling in the world. Knowing that I played an intricate part in establishing the foundation of their education gives me great pleasure.
I look forward to meeting and developing a close-knit relationship with each of you. I strongly believe that good parent-teacher communication builds bridges and enlists the parents as powerful partners in the academic success of their children.
I hope to work with you and develop a positive relationship, which is crucial for the success of each child. Trust is of the utmost importance to me—with both the parents and the children—and I have full conviction that together, we will develop a trusting relationship with an open door to communication.
If you have any questions or concerns, please feel free to contact me. I thank you for choosing Smart Stars Academy and look forward to a successful start in your child's development.
Respectfully yours,
Veronica Gorban 
Director
Ready to schedule a tour?