Learn about our curriculum
FasTracKids
How does a child learn? It takes more than the delivery of information. At FasTracKids, children are at the center of their learning. They are our galaxy, traversing the Arctic, and investigating the inside of the human body. Then they collaborate with their classmates to solve problems and create models to help express and communicate their new knowledge. The goal of FasTracKids is to inspire out students to become lifelong learners who view the world and its many challenges from a critical perspective.
FasTracKids explore the connection between science and art. Students study diverse topics hands on activities. The FasTracKids curriculum targets students between the ages of 3 and 7 because it is a time for making communication and critical thinking skills essential for success in and out of the classroom.
Biology: Children discover the wonders of plant and animal life as well as the environments they reside in by taking virtual trips to the Amazon, Sahara and Antarctica.
Creativity: Children learn about cultural differences in creative expression around the world and participate in interactive stories and activities in the areas of music, art and dance.
Technology and How Things Work: Children examine and make models of transportation, electrical, and computer technologies in order to discover what makes them work.
Earth Sciences: Children explore climate, geology, and forces of nature as they take imaginary world journeys to examine the wonders and varieties of the Earth from its surface to its core.
Goal and Life Lessons: Through role-play activities, children learn about teamwork as they explore how to set and reach goals while considering others' safety and emotions.
Astronomy: Children explore spatial and abstract thinking as they travel through space, learning about the solar system and concepts such as gravity and weightlessness.
Natural Science: Through scientific experiments involving magnetism, flotation, molecular change and buoyancy, children gain an understanding of scientific observation and analysis.
Speech, Drama & Art: Through exploration of the performing arts, children learn how to communicate their own unique ideas in a variety of ways.
Communication: Children explore and use different tools of communication and information exchange that have been used throughout history to demonstrate their skills and knowledge.
Economics: Children examine products from around the world, participate in imaginary research surveys, and create marketing strategies that help them to see the impact of economics on their daily lives.
Yoga
Kids have to get their sillies out somewhere. That's why every morning at Smart Stars Academy children will start with just that, Yoga! Yoga is a great physical release for all ages, even for bouncing-off-the-wall toddlers.
If you've never been to a children's yoga class, erase any images you have of slow breathing and meditation. (They may call it a "child's pose," but there's not a lot of standing around.) Our yoga is an energetic and creative experience. Little yogis are able to improve their coordination and body awareness, as well as get to practice following directions and learning control.
PHYSICAL
• Improved overall health
• Increased strength & ?exibility
• Greater balance
• Improved body image
• Better sleep quality
MENTAL
• Improved executive function
• Improved focus & attention skills
• Increased engagement
• Greater sensory integration
EMOTIONAL
• Improved emotional regulation
• Greater self-con?dence
• Increased resilience
• Decreased stress and anxiety
SOCIAL
• Greater compassion & empathy
• Improved communication skills
• Increased leadership skills
• Reduced bullying
• Greater sense of community & safer school climate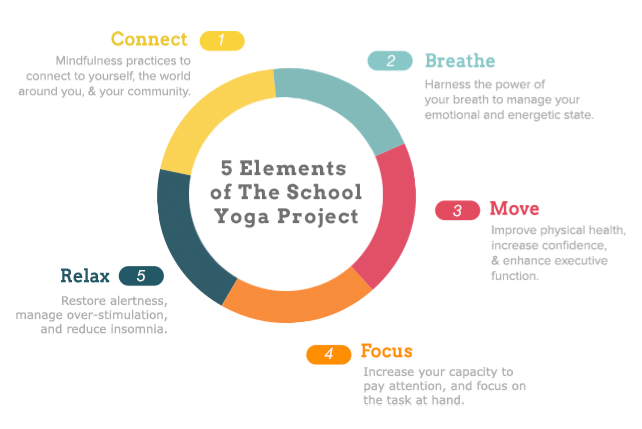 Soccer
Soccer is an ideal activity to promote all around physical development in early childhood. Our program uses fun-based soccer training activates that focus on developing of fundamental skills.
Specific focus is given to:
• Agility, balance and coordination
• Spatial awareness
• Physical awareness
• Social skills
• Movement patterns and sequences
• Listening skills
Gymnastics
Rhythmic gymnastics develops coordination, musicality, strength, stamina, flexibility in young gymnasts. It also improves the abilities of the gymnasts to learn different varieties of dance styles. Rhythmic gymnastics is also a sport with a very strict discipline that makes athletes stronger, more mature and consistent of what they do and what their goals are.
Music
Music is crucial to early education. The knowledge imparted by rhythm and harmonies teach children the importance of coordination and collaboration. Children who receive musical education reap the benefit of increased focused and intellectual curiosity!
Logic
Logic is the foundation of most intellectual activities, including philosophy, science and math. Logical thinking influences every decision we make and allows us to learn.
Dance
There are many benefits to dancing, especially ballroom and especially at a young age. Dancing is an art, but a very athletic art. It is a great way to stay in shape (or get in shape) but it goes far beyond the physical. Dance can, and does, improve hand eye coordination, will teach your kids discipline and to respect each other.
Chess and Checkers
Chess is one of the world's most popular games. Like other strategy board games, it is great for promoting critical thinking skills. Chess also promotes healthy brain functions and stimulates brain development in younger children.
Like chess, checkers is a two-player strategy board game that helps a child develop planning, strategy, persistence, and critical thinking skills. Checkers also equips children with pre-math skills and fosters logical thinking.
Gifted & Talented Prep Class
We offer classes to prepare for the Otis-Lennon School Ability Test ® (OLSAT) and the Naglieri Nonverbal Ability Test® (NNAT2) for placement in the gifted and talented program. Classes meet once-per-week for 14 sessions of one and a half hours. We incorporate smart board lessons, workbook exercises, and hands-on activities to make sure that your child takes in the material, no matter what style of learning they prefer.
Ready to schedule a tour?